About the Blog
Tone Bråten
I am a writer, a family counsellor, speaker and author who specializes in infertility. I want to give you a gift, a weekly texts on my IVF blog.
Why?
Because I want you to feel less lonely, normalize your feelings and thoughts, and make the IVF / egg donation treatment easier to go through
Stay strong, don't give up, your dream will come true!
I will tell you stories about others in the same situation
I will give you advice and tools to make your treatment easier
I will help you to keep your hopes up
Children books
Tone is the author of two children books. In a child's own language, this unique books tell the story of conception through sperm and egg donation.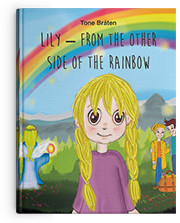 This is the story of how Lily's mom and dad travelled far, far away to that special land to find the magical egg that would give them the baby they wanted more than anything in the world
The book is written in English
Price 20 EUR including shipping
Buy book on-line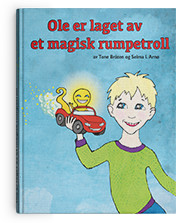 This is a book about Ole. He is a result of sperm donation; he loves to hear the story about how he was made. Do you like to hear?
The book is written in Norwegian
Price 200 NOK including shipping
Buy book on-line
Blog Feedback
I just had my phone session with Tone, thank you so much for organising it, she is a beautiful person & it was lovely to talk... Just what I needed this morning... I feel we are surrounded by Amazing Women, from Ava Peter, on this Journey....
Catharina, Norway
Dear Tone,
We are free to inform you, that you will be aunt of two babies.
It looks like, Clooney and Amal, will get TWINS! We must say "hope", because it was only 12 weeks when we had positive pregnancy test, and for now, everything looking good. Double surprise is something that we didn't expect, but now we could not imagine different scenario J.
Dear Tone, thank you very much, on everything you did, because you did a lot for us! We can say, after summarizing all you did, that we wouldn't make it without you! We wish you all the best, and hope that we will back soon with more happy news!
A lot of kisses from Belgrade
Serbia
In Tones blog and sessions I am happy to find an important source of support, power and greater understanding!
I experience that the treatment is colored by heartfelt hopefulness but also great uncertainty.
The texts helps me to put words on all emotions and thoughts. To read them gives me more peace and they help me to cherish my hope along the way!
From all my heart, thank you Tone!
Jenny, Sweden
I think the blog is very helpful (and touching). Reading about other women and their experiences, feelings and thoughts is very reassuring (and again: touching :-)). Also, your tips are nice to read and enlightening, and give guidance, like in the Skype meetings.
Of course the Skype meetings are more personal, but this is I think, a very nice addition to that. Giving you the possibility to find input when you are feeling low or when your hope is gone, when a Skype meeting is not available at that moment. This is alway available.
So yes, I think this is very useful! Thank you!