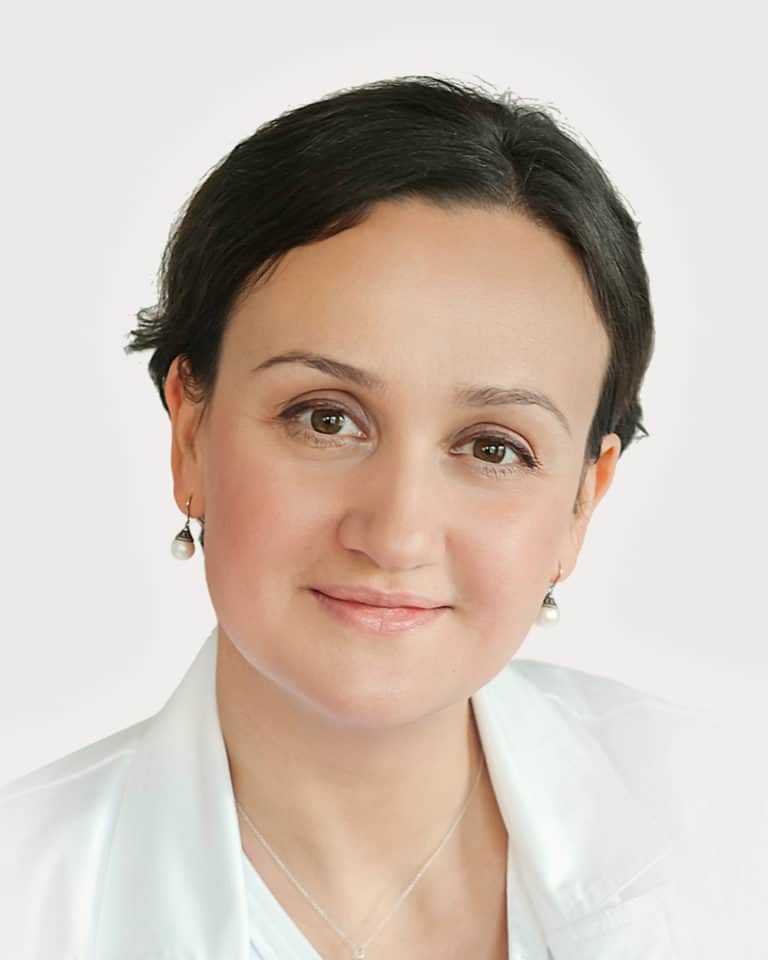 "Since 2004 I have been attentively listening to our international patients' needs, concerns and hopes. 'Dear patients thank you for letting me know in which way you want to be treated and what your needs are. This has helped me to start and develop the BEST egg donation program in Europe, with the only live birth baby guarantee and extensive donor data base" 

"What makes me happy as a professional? — a patient in a borderline age (39-42), low AMH, last IVF before turning to egg donation, single follicle, single egg, single transfer – a baby…"
Dr. Olga Zaytseff gained her degrees in Medicine and Philology at the Saint Petersburg State University in 2002. Olga continued her clinical residency at the University within the Department of Obstetrics and Gynaecology, during which time she also specialised in ultrasound diagnostics at the St. Petersburg Medical Academy of Postgraduate Studies (MAPS).
In 2003 Olga travelled to Germany, after being offered a DAAD-supported scholarship, and started working as a Gynaecologist within the IVF department of 'Kiel University Women's Hospital'. Here Olga carried out treatment of patients with hormonal disorders and also perfected her skills and knowledge in artificial insemination cycles, IVF, ICSI and PGD. Olga also participated in the launching and coordination of the PGD (polar body biopsy) project within the Kiel University.
In 2005 and at the end of her scholarship, Olga returned to St Petersburg to join the AVA-Peter Clinic as a fertility specialist.
In 2006 Olga started a highly personalised and individual Fertility Treatment Program for international patients at AVA-Peter. "Going abroad for fertility treatment is a challenging project for every woman, or couple. Taking care of an international patient coming for treatment was also new for me in 2006. I was listening to my patients needs, heard what they were saying and implemented this in my program. In 2006-2007 I was doing everything myself: Egg retrievals, embryo transfers, taking care of donors, sending visa invitations, arranging airport transfers and hotel bookings, answering night calls and sms." 
Today we are a wonderful team of more than 30 highly motivated, compassionate professionals, focused on our patients' success and comfort, taking care of all the big and small areas involved in fertility treatment abroad. Our coordinators provide you with all the necessary information, answers your questions on phone and e-mail, help you with donor choices as well as visa and trip arrangements. Our family counsellor's skype sessions help you to handle and understand your feelings, so as to feel positive and not alone during treatment. Our nurses surround you with care whether you are at the clinic, or thousands of miles away – we are just one e-mail, or one phone call away! Our embryologists and doctors create miracles every day by offering the opportunity of motherhood to patients who were abandoned long ago in their own countries: too old, does not fit into our criteria, donor eggs are forbidden, or unavailable, single, etc…
Today we have perfected our program to such a level that we are able to offer all these patients, abandoned in their home countries, not just an opportunity of motherhood, but a Baby Guarantee.
Many women come to us for egg donation, or embryo adoption, but if there is a realistic chance to get pregnant with their own eggs, we will fight for their own genetic material to become the basis of their children. Many of my patients have got their babies, with their own eggs at our clinic, after multiple unsuccessful tries in their own countries. And this is what makes me so happy as a doctor:  "To meet a patient of borderline age (39-42), low AMH, last IVF before turning to egg donation, single follicle, single egg, single transfer – and help her have a baby…"
We offer our patients an opportunity to decide what is best for them. People need to have choices: to try with own egg, or donor egg? which donor to choose etc. Especially with the choice of the donor it is absolutely unacceptable for the majority of European women to let another person, or a clinic, choose a donor for them as the donor will contribute 50% of genetic material for their future child! Women want to choose their donors themselves, see their photos, make their own decisions. We are here on your side to guide you in this highly emotional, personal and delicate process called fertility treatment.
Olga is married and has two amazing children of her own.
Ask Your Question!