What is IDEAS?
IDEAS is an International Donor Egg Agency St. Petersburg
IDEAS is an International Dedicated Enthusiastic Advanced Science-based Team of medical doctors, nurses, family counselors and patient coordinators from St. Petersburg, Sweden, Norway and the UK, whom make it possible for international patients to have a comfortable, stress-free and efficient fertility treatment in St. Petersburg.
IDEAS collaborates with the best fertility clinic in St. Petersburg called AVA-Peter Clinic. The AVA-Peter Clinic is the oldest private fertility clinic in Russia and has offered its experience and expertise in fertility treatments to national and international patients since 1996
The main goal of IDEAS
A healthy baby in your arms within the minimal time frame and with minimal stress. With huge emphasis on harmony in the mother-to-child relationship in the future
Our special approach to egg donation treatment
Treatment coordination
You do not need to worry about coordination of your and your donor's cycle. You just need to tell us in which timings you prefer for your visit in St. Petersburg and which egg donor you have chosen and we will make it happen: we guide you through the whole process, step by step
Psychological support
We know that you may have ethical and emotional concerns related to becoming a mother through egg donation. We offer experienced counselling, free in all treatment programmes, which introduces and guides you through your treatment, pregnancy and beyond
In egg donation clinics in Europe a donor is chosen for a patient by the clinical team based upon basic physical characteristics. IDEAS offers you a unique opportunity of making your own personal choice of the best egg donor based on your own priorities and human values.
Through years of experience in egg donation we understand that many couples and single women highly appreciate the opportunity of viewing egg donor photos, together with as much information and detail as possible about the egg donors and their families and that they would like to make their own choice. For many modern western women it feels unacceptable that someone else would make this choice for them!
Some women are looking for an egg donor with as much physical resemblance to their own looks as possible. For other women social, educational and familiar background of the egg donors play the most important role. The majority of patients are interested in finding out the reasons which brought the young women into becoming an egg donor?
To help our patients take the leading role in their choice of the best egg donor we have created the unique Egg Donor Database, which provides you with the following data and opportunities:
You can choose from more than 180 egg donors
There is no waiting time — each donor is available immediately
You can view the egg donors personal photos under the age 12
You can read the personal letters of the egg donors; telling about their lives and explaining why they became egg donors
All egg donors have their own healthy children and are in the age under 32
All egg donors are seen by 3 medical doctors (GP, Gynecologist and Psychiatrist) and undergo extensive laboratory testing
Less than 10% of potential applicants are included in the Database
Free Introductory package
Hesitating or insecure? Do you feel that you need more information and reassurance before plunging into the egg donor search? Or perhaps, you have never been through the egg donor choosing process before?
In this case, we are here to help and are glad to offer you our introductory package.
Our free introductory package about egg donation includes:
Skype meeting with our professional psychologists to introduce egg donation to you.
Skype/phone meeting with our former patients who have already created a family through egg donation and are now willing to share their experience with you.
Skype meeting with one of our egg donation team members to talk through the practical aspects of the egg donor choice.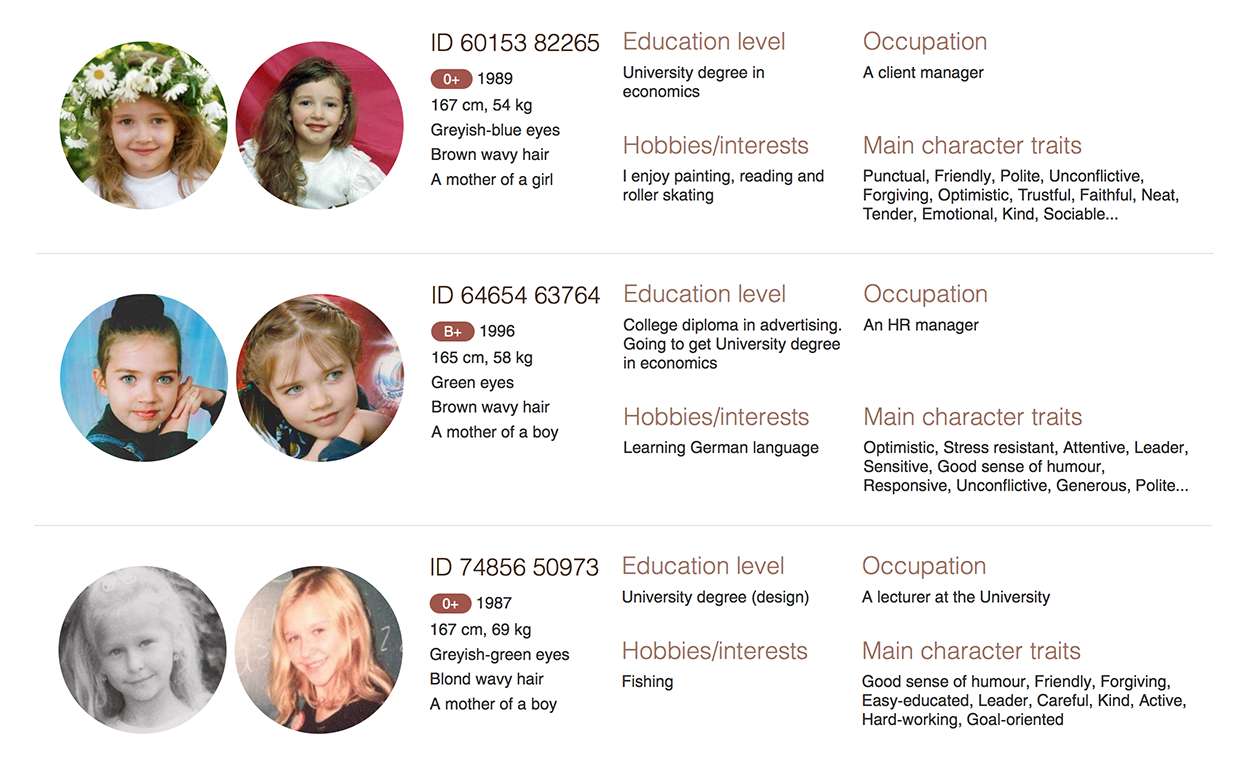 We want you to choose your own donor based upon your own individual needs and human values. To do this we will provide you with as much information as possible and will respect your choice! However, we are more than happy to advise you and guide you in this choosing process should you need it.
Wondering where to start from?
Guarantees
Many patients who are looking for egg donation treatment have been through numerous IVF attempts before and have experienced many frustrations:
None, or too few amount of own eggs produced
No embryos available for transfer
Multiple IVF attempts, but still no result
Huge emotional and financial investments — but still no baby
To our patients looking for egg donation we offer the following guarantees which protect you from the situations described above and from bad luck:
A. Guarantee of a certain amount of mature donor eggs

We offer an 8 egg guarantee programme (6990€, including IVF or ICSI and Embryo Transfer) and 12+ egg guarantee programme (11500€ includes all eggs produced by the egg donor, IVF or ICSI and Embryo Transfer)

B. Guarantee of a certain amount of viable embryos.

In our 8 egg programme we offer a guarantee of at least 2 viable embryos, available on day 5, for transfer and freezing.

In our 12 egg programme we offer a guarantee of at least 4 viable embryos, available on day, for transfer and freezing.

C. Baby guarantee

Many patients who come to us for egg donation tell us that the efforts invested in their baby project did not match the end result: huge emotional, financial and time investments, but still no baby in the end.

The Baby Guarantee offers you confidence and reassurance that either you give birth to a baby, within limited amount of attempts, or the money will be returned to you.

Our Baby Guarantee programme guarantees that a baby is born within 3 fresh donor egg IVF attempts, or we will return 80% of your money back. (programme cost 21900€)
Having questions about guarantees?
Now you have finally reached your end destination! You don't have to change clinic anymore, you have found the clinic that offers all the alternatives there are and more and will help you to reach your main goal: a child. We welcome you to our clinic and are happy to offer you the largest and the most comprehensive Egg Donor Database and the best guarantee packages in the whole Europe. So come and join us!