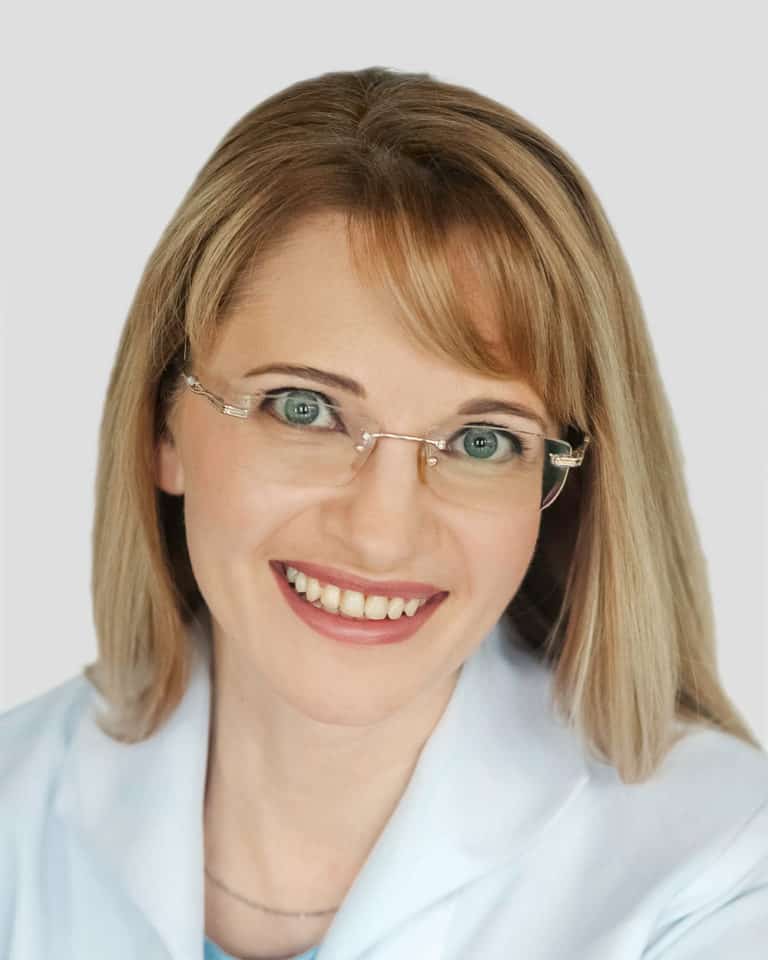 Elena has created the first baby in Russia after ovarian tissue transplantation in a cancer patient (after chemo- and X-Ray therapy)
"I feel happy when I can solve a patient's problem quickly, comfortably and efficiently. My surgical operations inside the uterus have helped many women, who were predetermined to use surrogacy due to the extent of damage in their uteruses, to carry their children in their own wombs. But, surgical treatment alone is not enough – menstrual cycles after surgery are very important to stimulate endometrial growth and to help endometrial cells win over the scar tissue"
Dr. Elena Lapina received her education at the "State Medical Academy", in the beautiful Russian city of Yaroslavl. Elena completed her education with honors in 1998, and went on to study and specialize in Obstetrics and Gynecology from 1998-2000. Elena´s clinical interest was then drawn to endoscopic surgery in gynecology, and from 2000 Elena has worked as a fertility surgeon at the largest state hospital in St. Petersburg (N2) and since 2004 as fertility surgeon in AVA-Peter. 
Elena has completed multiple endoscopy and surgery courses in Russia and abroad, and has become one of the leading gynecological surgeons in Russia. 
Among her specializations: 
Courses in Ultrasonography in St. Petersburg State University in 2004
Courses in Hysterosocpy and Endovideosurgery at Medical Academy of Postgraduate studies in St. Petersburg in 2004
A course in Uterine fibroid embolization by International Cardiovascular and Interventional Radiological Society in 2006
Advanced Techniques in Gynecological Endoscopy CENTRE INTERNATIONAL DE CHIRURGIE ENDOSCOPIQUE in 2010.
Elena's surgical approach to women´s health is always carried out with two main focuses; eliminating disease, whether it be endometriosis, fibroids, or cancer, as well as preserving fertility at the same time. Elena has always kept in mind that her patient may want to become a mother in the future, whether she is 30, 40 or 50.
In 2007 Elena completed her PHD with her thesis devoted to the topic of pregnancy in women with hereditary thrombophilia.
In 2013 Elena went on to achieve her qualification as a fertility specialist, her goal now being to complete the whole process from fertility preserving surgical treatment of fibroids, endometriosis, or adhesions through to IVF treatment, embryo transfer and successful pregnancy! Since then Elena has worked as a fertility specialist at AVA-Peter fertility Clinic.
Not surprisingly Elena soon became fascinated by the idea of preserving own eggs for women undergoing X-ray and chemotherapy treatment due to cancer. X-ray and chemotherapy helps to eliminate cancer, but sadly destroy egg reserves in the woman's ovaries. If some eggs, or tissue from the woman's ovaries, are frozen before X-Ray and chemotherapy, they can be used in the future to create a pregnancy with the woman's own egg, in her own uterus, after she is fully recovered. 
In 2014 Elena made it possible, for the first time in Russia, for a woman to give birth after ovarian tissue transplantation. Elena surgically removed and froze ovarian tissue from the patient before she underwent chemotherapy and X-ray therapy, then transplanted the tissue back into the patient's ovary after she was cured from her cancer. Elena then performed ovarian stimulation, egg retrieval and embryo transfer. The circle was closed and the first baby in Russia was born this way!

Women with special gynecological diseases, from all over the world, now travel to Elena before undergoing their IVF at AVA-Peter, or at their local clinics. Today, Elena is also helping women with Asherman Syndrome, these women are usually predetermined to use a surrogate mother rather than their own uterus to carry their child. Elena has developed very fine methods of operating in the uterine cavity and also incorporates specific medication to stimulate endometrial growth after the operation, enabling them to carry their own child in the future. 
Elena has produced more than 20 scientific publications and the key topic of her clinical and scientific interest is recurrent implantation failures and early pregnancy loss. 
Elena is married and has two lovely children.
Ask Your Question!