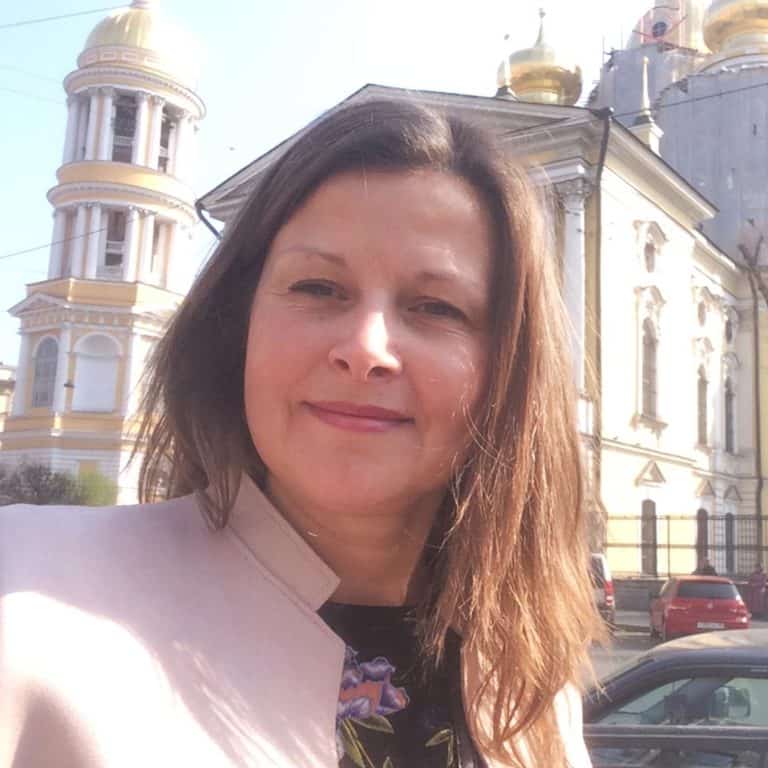 9 May 2019
Dear Olga, Finally I have a bit of time in busy period. I would like to write a bit about mine experience on your clinic in St Petersburg and the days there. Already before traveling I was very thankful for all tips about hotel, agency which might help with visa etc. So until my journey over everything went really smooth, even the free from job. 😊
When I arrived late in night (0:35), tired after working day it was really nice to see my name on the label when I got out of the airport instead trying to find taxi or train. The taxi driver vas very kind, help with my luggage and was showing me some parts of St Petersburg on the way. I really got "home flash" looking at the Stalin buildings, because I come from Czech Republic, town called Havirov, which was build with Russian architecture and we used to live in one of similar flats with my parents. I was very happy that the taxi driver showed me already on that night, where is the main way to centre and most importantly (he repeat it like 3 times 😊) which way I get to the clinic in the morning without me even asking about it. Maybe little ting, but for me rather big, because I was a bit nervous how I'll find it in the morning, so I could go sleep straight away in peace. I was amazed with the Hotel Eliseevskiy (but would like to mention that it is closer to clinic than it stays in the paper from you) which is laying by river Fontanka, will absolutely recommend it to everybody visiting Saint Petersburg.
It was nice morning, way to clinic was easy and short and then I was really happy to find out that you were so clever to put us 6 ladies in the same situation with embryo transfer in the waiting room for tests together. As a rather open person I started to chat and after a while we all were happy we were scheduled approximately the same time and created little intime group, where we can support each other in worries and happiness if we needed it. We all agreed to meet for the city tour and exchange contacts and I am very happy for that part. ❤️
The city tour was lovely and calming after rather intensive day with a lot of new information, nice we could get ride. The guide gave us a lot of good tips what we can possible see during our stay with understanding, that sightseeing is not our main goal here. I used few of these tips and was very happy to take boat tour before the transfer as the weather was incredible and I wanted to have some nice quiet time. For me personally it was important to create as beautiful experience as possible as we talk about creating new baby here 😊
I probably said it many times, but everybody from the stuff in the clinic was extremely nice, but as I call it nice from the heart, seeing me and listening every single worry I had. Explaining patiently every detail if I needed it 😊 Safe place to be. Clinic itself is really beautiful place full of good vibes, so I wait for the positive results hopefully. 😊 Embryo transfer was done witch such care and love of course together with hight professionality. ❤️ I loved the fact of quiet room before, where I could pray and do little meditation.
One of the things which surprised me on my journey meeting stuff connected with your clinic, that your specialists are so open for all of the newest concepts and paradigm. I could speak with psychologist about transpersonal psychology and when I mentioned to the doctor that I think I got rid of unexpected cyst with help of psychosomatic medicine (right new thoughts instead of that one which creates sickness) in just few days she didn't have problem to accept it. At the end we were both happy the cyst is gone. 😊 It felt so nice and safe to speak to her.
As we ladies who had transfer on the same afternoon changed the contact we had last dinner together, all (I believe ❤️) mothers with new "babies" inside, it was magical. ❤️ One of them already has beautiful daughter with help of your clinic, so we could ask her many questions and she was more than happy to share. She gave us some training on safe food already at the dinner table, which was very ok to.
Although I was finished with all procedures I had urge to return to the clinic just to say proper good bye and I was so lucky to finally meet mine coordinator Valeria. It was strong moment for me, she is just like angel. We had proper hug and nice chat. Now, every time I started to worry in mine waiting period I remembered our hug and the wishes she whispered to my ear. ❤️
The way back was nice and calm, another taxi driver gave me city tour on the way back. 😊 He could speak only Russian, but I liked it, because he spoke slowly so I could understand everything and had possibility to practise my forgotten Russian. Funny to think that it is now in St Petersburg I had for the first time in my life real possibility to practice language I learned in the school for 8 years! And as I told you I always dreamed to see St Petersburg before, just didn't think it will be this way. And I am rather sure I will come back as a tourist one day, I felt deep connection with this town.
I was surprised everything went so smooth with taking medicines through customs, I had all in my hand luggage, was not problem. Flights were fine and I came back with so positive experience.
Now finally, after some busy week at work I couldn't resist and took the pregnancy test one day before I will do it at the doctor. And home test was positive! ❤️❤️ I am so thankful and praying for everything going well in coming days, weeks and months. 😊
Big thanks from my heart, you are in my eyes good combination of angel, professional, and incredibly strong woman who brings happiness to many. Hope you to see you on seminar in Oslo soon.